If you own a cottage or a house that is not connected to a municipal water system, your water likely comes from a well or cistern. This blog post summarizes five types of wells to help you keep your water system in good condition. For more information, read the related article "Water Supply & Wells".
What are drilled wells?
Your best well option is a drilled well, dug by percussion or rotary drilling machines to a depth of possibly thousands of feet deep. These wells are superior to other types because they have a lower risk of contamination by drawing water further away from the surface and are cased throughout.
What are dug wells?
Also known as bored wells, these wells are dug by shovel or backhoe and partly cased with stones, brick, tile, etc., to prevent collapse. They have a large diameter and are approximately 10 to 30 feet deep.
What are driven point wells?
Also known as a sand point well, this small diameter well is built by attaching lengths of 1-1/4" or 2" diameter steel pipe together with threaded couplings. At the end of the last pipe, a drive-point well screen is threaded on, and it is usually 2 to 3 feet long with a hardened steel tip or drive-point at the bottom. The screen allows groundwater to flow into the well but keeps sand out.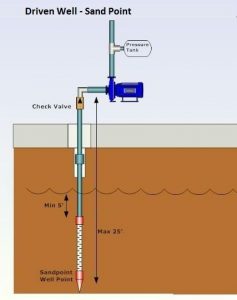 What are shore wells?
If you own a cottage near a river or lake, your water source may be a shore well. These kinds of wells can be installed by digging with a backhoe or larger equipment, or by blasting with explosives.
These kinds of wells require a water quality test and a certification of the flow rate. Water levels, especially on the Great Lakes, can vary considerably with the seasons, so it's best to have a deep shore well. If you dig a new one, do it in the late fall when water levels are lower.
There is a possibility that your well could be contaminated lake or river water. If this is the case, use sterilizing equipment like a chlorinator or ultraviolet light to remove bacteria.
What are cisterns?
If your cottage or rural home does not have access to a well, you may need to use a cistern. A cistern is a large holding tank that can be filled periodically by a water supply company or rainfall. Before using the water held in a cistern, it should go through a water purification system installed in your home.
Cisterns can be made from concrete, concrete block, brick, or steel fibreglass. They are commonly buried underground and can last about 20 years (longer for prefabricated cisterns). A cistern should be cleaned annually by a commercial cleaner checked for cracks or erosion.